WELCOME!
Photographic Centre Nykyaika is an open meeting place for photography enthusiasts in the heart of Tampere, Finland. At Nykyaika you´ll find two gallery spaces, one of which is located downstairs, and a public reference library that consists of approximately 800 books about photographic art.
Admission to exhibitions, to reference library, and to events and workshops at Nykyaika is always free.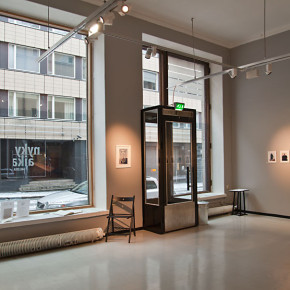 Opening hours:
Mon-Fri  12 – 18
Sat-Sun 12 – 16
Closed between exhibitions and on public holidays.
Visiting address:
Valokuvakeskus Nykyaika
Kauppakatu 14
33210 Tampere
Tel. +358 (0)50 441 2040
Email: galleria.nykyaika (at) backlight.fi
Nykyaika organizes approximately once a month artist talks, lectures, workshops, discussions, or something else with exhibiting artists. Information about the events will be announced on social media channels: follow us on Facebook or at Instagram. Unfortunately we are able to maintain our webpages mainly only in Finnish.
How to apply for an exhibition to Photographic Centre Nykyaika?
The Open Call for exhibitions at Nykyaika Gallery in 2020 has ended. The next open call for the exhibitions for 2021 opens in the beginning of May in 2020.
If you are a photographer seeking for an opportunity to exhibit your project in Tampere, contact us for more information and for the applying terms.
If you are not able to visit our premises, you are welcome to take a
jump straight in to our gallery >>
Mission
Our mission is to promote photography as a medium for artistic expression and as a form of visual culture, to facilitate interaction between photography and other arts, as well as to make photographers familiar to audiences.
Members
The Photographic Centre Nykyaika is run by a non-profit association. The members of Nykyaika are photographers and visual artists. You will find links to our members' websites here.
Nykyaika Photo Portfolio
There's a chance for anyone to become a supporting member of the Photographic Centre Nykyaika. As a supporting member you´ll get one art print for free after your first payment! You may choose your own print from a portfolio of 16 separate photographic works signed by an Tampere-based artist. Those artists are:
Terhi Asumaniemi – Helinä Hukkataival – Aimo Hyvärinen – Petri Ihanus – Soile Iivonen – Riitta Järvelä – Janne Laine – Mirja Paljakka – Marja Pirilä – Asko Salminen – Saara Sillanpää – Merja Tanhua – Marja-Liisa Torniainen – Jaana Tyrmi – Risto Vainio – Hans Viebrock
Detailed information about the prints:
Edition: 16 x 5, digital c-print 30×43 cm, paper: Tecco Fine Art Paper (Bright White Rag Matt / Baryt Gloss)
Annual fees (2019) for supporting members are: individuals 50 €, small organizations (1-5 persons) 150 €, and larger organizations (more than 5 persons) 250 €.
If you are willing to buy more prints from the portfolio, please contact the executive director of Nykyaika and negotiate a package to meet your needs.
Regional Photographic Centre
Nykyaika is based in the centre of the city of Tampere, Finland. Our role as regional photographic centre is not limited to produce exhibitions only within Tampere region but in other locations, too. Our exhibition programme offers a broad perspective on the diverse forms of art photography.
International festival
Photographic Centre Nykyaika organizes international Backlight Photo Festival in co-operation with local, regional and international partners. Nykyaika has organized an international triennial since 1987 – in 1999 the festival was renamed as Backlight Photo Festival. Since then Backlight has been planned and implemented in collaboration with institutions from several European countries. Backlight is a member of several networks, such as Festival of Light and Tampere Region Festivals.
The Backlight Photo Festival promotes intercultural dialogue by focusing on revealing the hidden, the veiled, the lost, and forgotten. Each Backlight presents a unique programme built around a specific societal theme. The festival features extensive, high-quality exhibitions, a symposium with lectures, workshops, guided tours, a residence programme, portfolio reviews and publications.
Photographic Centre Nykyaika & Backlight Photo Festival
Mailing address:
Valokuvakeskus Nykyaika
Kauppakatu 14
FI-33210 Tampere
Finland
People:
Executive director Terhi Asumaniemi tel. +358 50 5126911, personal email: director.nykyaika (at) backlight.fi
Backlight festival director Hannu Vanhanen tel. +358 50 557 9960, email: director.backlight (at) backlight.fi
Exhibition assistants / gallery tel. +358 50 441 2040, gallery email: galleria.nykyaika (at) backlight.fi